Page 17 of 17 •

1 ... 10 ... 15, 16, 17
Almond Joy Fudge

Fudge Layer:
1 1/2 cups milk chocolate Hershey's Kisses, unwrapped
1 1/2 cups chocolate candy melts (like Wilton or Almond Bark)
1 – 14 oz can sweetened condensed milk

Coconut Layer:
1 – 14 oz bag sweetened shredded coconut
1 cup powdered sugar
1/2 cup + 1 tbsp. sweetened condensed milk

Chocolate Candy Layer:
20 whole raw almonds
1 cup chocolate candy melts (like Wilton or Almond Bark)

Prepare a 9×9-inch baking dish by lining it with parchment paper and lightly spraying with non-stick cooking spray. Set aside. In a medium saucepan over low heat, stir together the Hershey's Kisses, the chocolate melting candy, and the whole can of sweetened condensed milk until melted and smooth. The mixture should start to pull away from the edges of the pan. Scrape fudge into the prepared baking dish and set aside.

In a large bowl, mix together the 1/2 cup + 1 tbsp. sweetened condensed milk, the coconut, and the powdered sugar. It's best if you can use a stand mixer for this, as it really takes some "elbow grease" to mix it together thoroughly. If you choose to mix by hand, be aware, the mixture may appear dry at first, but as you continue to "work" the coconut, the consistency will improve.

Spread out a piece of parchment or wax paper that is approximately the size of the 9×9-inch dish. Scrape out the coconut mixture onto the paper. Use a rubber spatula or clean hands to press the coconut into a square the size of the dish. Invert the coconut square on top of the fudge and gently press down. Spread the almonds evenly over top of the coconut layer.

Microwave the remaining melting chocolate for one minute. Stir until smooth and pour as evenly as possible over the almonds. Use a rubber spatula to gently spread the chocolate in an even layer. Let fudge cool completely to set, about 4-6 hours at room temperature or an hour in the refrigerator. Cut into 1 inch squares to serve. (I found that inverting the dish onto a cutting board and cutting from the bottom, the soft layer, down to the hard chocolate layer made the cutting a little less messy.)
Pecan Cake Bars

Crust:
2 sticks unsalted butter, softened
2/3 cup packed brown sugar
2 2/3 cups all-purpose flour
1/2 teaspoon salt

Topping:
1/2 cup unsalted butter
1 cup packed light brown sugar
1/3 cup honey
2 tablespoons heavy cream
2 cups chopped pecans

Preheat the oven to 350ºF and line a 9x13-inch pan with foil, leaving enough for a 2-inch overhang on all sides. First make the crust by creaming together the butter and brown sugar until fluffy in a stand mixer fitted with the paddle attachment. Add in the flour and salt and mix until crumbly. Press the crust into the foil-lined pan and bake for 20 minutes until golden brown.

While the crust bakes, prepare the filling by combining the butter, brown sugar, honey and heavy cream in a saucepan and stirring it over medium heat. Simmer the mixture for 1 minute, then stir in the chopped pecans. Remove the crust from the oven and immediately pour the pecan filling over the hot crust spreading it to cover the entire surface. Return the pan to the oven and bake an additional 20 minutes. Remove the pan and allow the bars to fully cool in the pan. Use the foil overhang to lift out the bars and transfer them to a cutting board. Peel off the foil, slice into bars and serve.
Caramel Apple Cheesecake Bars

Crust:
2 cups all-purpose flour
1/2 cup firmly packed brown sugar
1 cup (2 sticks) butter, softened

Cheesecake Filling:
3 (8-ounce) packages cream cheese, softened
3/4 cup sugar, plus 2 tablespoons, divided
3 large eggs
1 1/2 teaspoons vanilla extract

Apples:
3 Granny Smith apples, peeled, cored and finely chopped
1/2 teaspoon ground cinnamon
1/4 teaspoon ground nutmeg

Preheat oven to 350 degrees. In a medium bowl, combine flour and brown sugar. Cut in butter with a pastry blender (or 2 forks) until mixture is crumbly. Press evenly into a 9x13 baking pan lined with heavy-duty aluminum foil. Bake 15 minutes or until lightly browned.

In a large bowl, beat cream cheese with 3/4 cup sugar in an electric mixer at medium speed until smooth. Then add eggs, 1 at a time, and vanilla. Stir to combine. Pour over warm crust.

In a small bowl, stir together chopped apples, remaining 2 tablespoons sugar, cinnamon, and nutmeg. Spoon evenly over cream cheese mixture. Sprinkle evenly with Streusel topping. Bake 40-45 minutes, or until filling is set. Drizzle with caramel topping and let cool. Serve cold and enjoy!

Streusel Topping:
1 cup firmly packed brown sugar
1 cup all-purpose flour
1/2 cup quick cooking oats
1/2 cup (1 stick) butter, softened

In a small bowl, combine all ingredients. I like to really combine it by using my clean hands to thoroughly combine the butter into the mixture.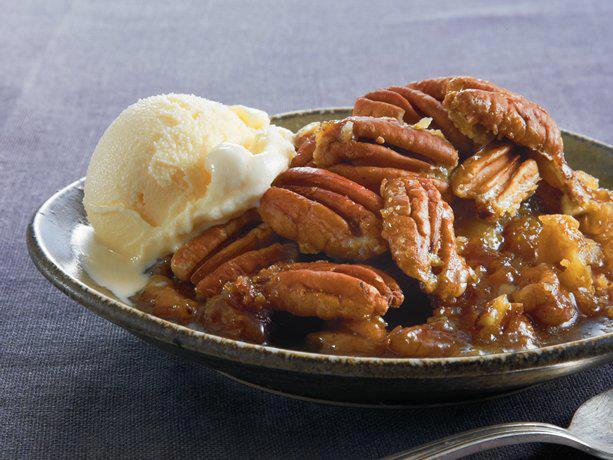 Pecan Pie Cobbler
1 box Pillsbury® refrigerated pie crusts, softened as directed on box
2 1/2 cups light corn syrup
2 1/2 cups packed brown sugar
1/2 cup butter, melted
4 ½ teaspoons vanilla
6 eggs, slightly beaten
2 cups coarsely chopped pecans
Butter-flavor cooking spray
2 cups pecan halves
Vanilla ice cream, if desired
Heat oven to 425°. Grease 13x9- inch (3-quart) glass baking dish with shortening or cooking spray. Remove 1 pie crust from pouch; unroll on work surface. Roll into 13x9-inch rectangle; trim sides to fit baking dish. Place crust in dish. In large bowl, stir corn syrup, brown sugar, butter, vanilla and eggs with wire whisk. Stir in chopped pecans. Spoon half of filling into pastry-lined dish.
Remove second pie crust from pouch; unroll on work surface. Roll into 13x9-inch rectangle; trim sides to fit baking dish. Place crust over filling. Spray crust with cooking spray. Bake 14 to 16 minutes or until browned. Reduce oven temperature to 350°. Carefully spoon remaining filling over baked pastry; arrange pecan halves on top in decorative fashion. Bake 30 minutes longer or until set. Cool 20 minutes on cooling rack. Serve warm cobbler with vanilla ice cream.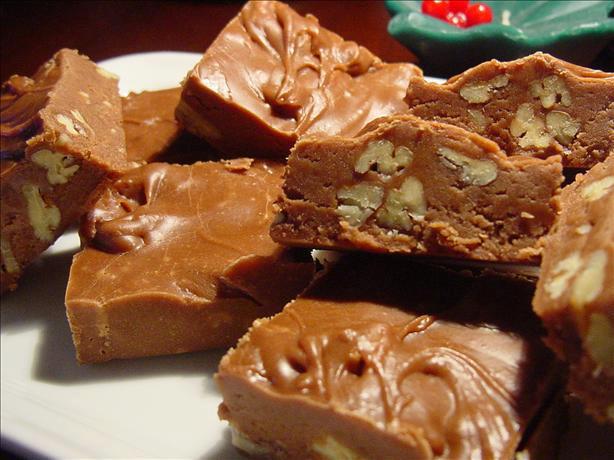 Fantasy Fudge
3 cups sugar
3/4 cup margarine
2/3 cup evaporated milk
1 (12 ounce) package semi sweet chocolate chips
1 (7 ounce) jar kraft marshmallow creme
1 cup chopped nuts
1 teaspoon vanilla extract
Combine sugar, margarine and milk in heavy 2 1/2 quart sauce pan; bring to a rolling boil, stirring constantly. Continue boiling 5 minutes over medium heat, stirring. Remove from heat add chocolate stirring until melted. Add marshmallow creme, nuts and vanilla; beat until blended. Pour into 13x9 greased pan. Let cool and cut into 1 inch squares.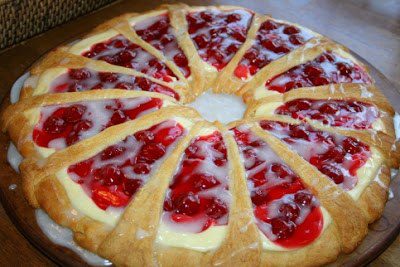 Cherry Cheese Coffee Cake
Cake & filling
2 (8 oz. each) pkgs. refrigerated crescent rolls
8 oz. cream cheese
1/4 cup powdered sugar
1 egg
1/2 tsp. vanilla or almond extract
21 oz. can cherry pie filling
Glaze
1/2 cup powdered sugar
2-3 teaspoons milk
Preheat oven to 350 degrees. Unroll crescent dough and arrange 12 of the triangles in a circle with wide ends toward the outside edge of the Large Round Stone - the points will not meet in the center. Lightly flour and roll out the seams making a 14" circle with a 3" hole in the center. Combine the cream cheese, powdered sugar, egg & vanilla and spread over dough.
Top with pie filling. Cut each of the 4 remaining triangles into thirds (starting at the wide end opposite the point and cutting lengthwise to the point). Arrange over filling evenly in spoke-like pattern. Press ends to seal at center and outer edges. Bake 25-30 minutes or until golden brown. Cool slightly. Mix powdered sugar and milk until glaze consistency and drizzle over coffee cake.
Page 17 of 17 •

1 ... 10 ... 15, 16, 17

Similar topics
---
Permissions in this forum:
You
cannot
reply to topics in this forum